Kingston Fury Renegade RGB 16 GB 3200 MHz DDR4 CL16 KF432C16RB1A/16
$ 57.00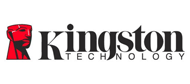 Peak performance and RGB LEDs
Kingston FURY Renegade DDR4 RGB is the perfect upgrade for the gamer who wants top performance and a vibrant RGB design. Dynamic RGB effects use Kingston FURY's patented infrared sync technology to create smooth, synchronised lighting effects. The sleek, aggressive black heatsink with matching black circuit board pushes the thermal envelope. The memory is available in single modules from 8GB to 32GB and in kits of 2, 4 and 8 modules with capacities from 16GB to 256GB. Renegade DDR4 RGB is Intel XMP certified with profiles optimised for the latest Intel chipsets. Simply select the hand-tuned profile in the BIOS to be ready. 100% factory tested at all frequencies, backed by a lifetime warranty and backed by 30 years of expertise, Renegade DDR4 RGB delivers extreme performance, stunning aesthetics and complete peace of mind.
About this item
Kingston Fury Renegade RGB 16 GB 3200 MHz DDR4 CL16 Desktop Memory Single Module
Stunning RGB style¹

Patented Kingston FURY Infrared Sync technology

Fierce aluminum heat spreader complements the smooth RGB effects

High speeds, low latency DDR4 performance

Intel XMP Certified profiles optimized for Intel's latest chipsets.Ready for AMD Ryzen
Kingston FURY Renegade RGB
Overclocking has never been easier with Intel's Extreme Memory Profile technology. Simply select one of the manually configured profiles built into the BIOS to enjoy the benefits of overclocking without having to manually change memory timings.
Stunning RGB design
Kingston's patented FURY infrared sync technology
Aggressive aluminium heatsink design complements smooth RGB effects
DDR4 performance, high throughput and low latency
Certified Intel XMP profiles optimised for the latest Intel chipsets
AMD Ryzen compatible