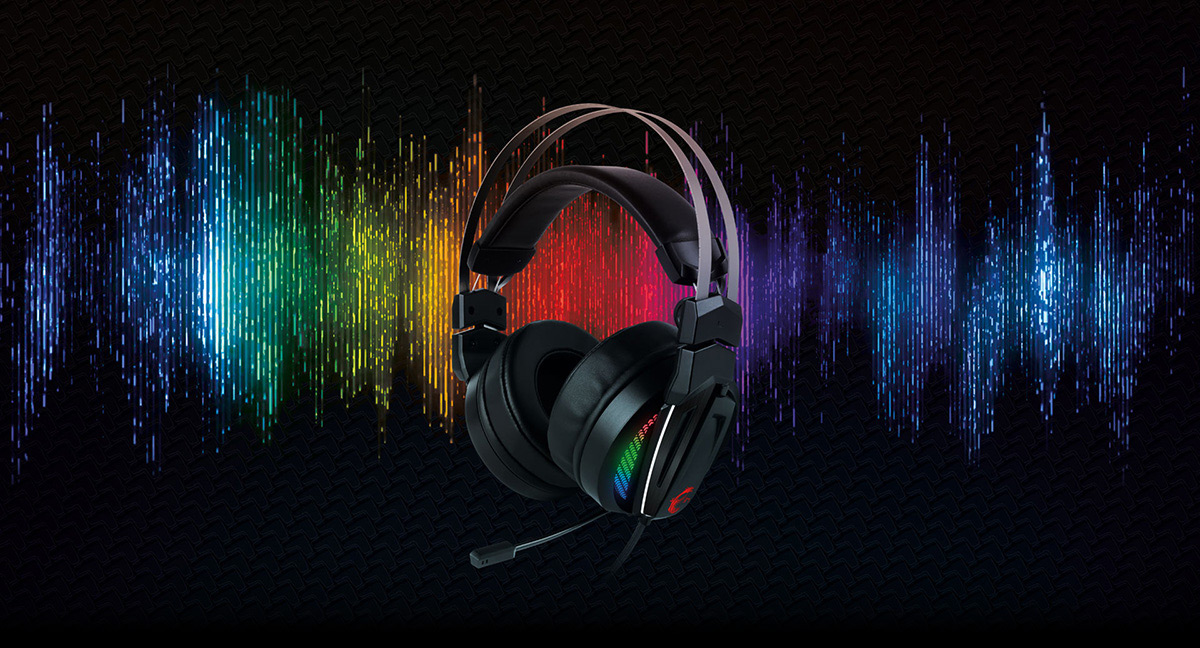 GET INTO THE GAME
IMMERSE GH70 GAMING HEADSET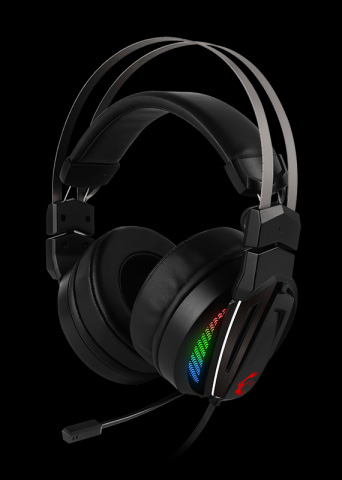 Hi-Res certification guarantees the highest sound quality
Enhanced Virtual 7.1 Surround Sound
Smart Audio Controller
Amazing LED Light Effect
Choose from millions of colors with RGB Mystic Light
Fine-tune detailed settings with Gaming Center
Comes fully geared up with all accessories and carry pouch in the box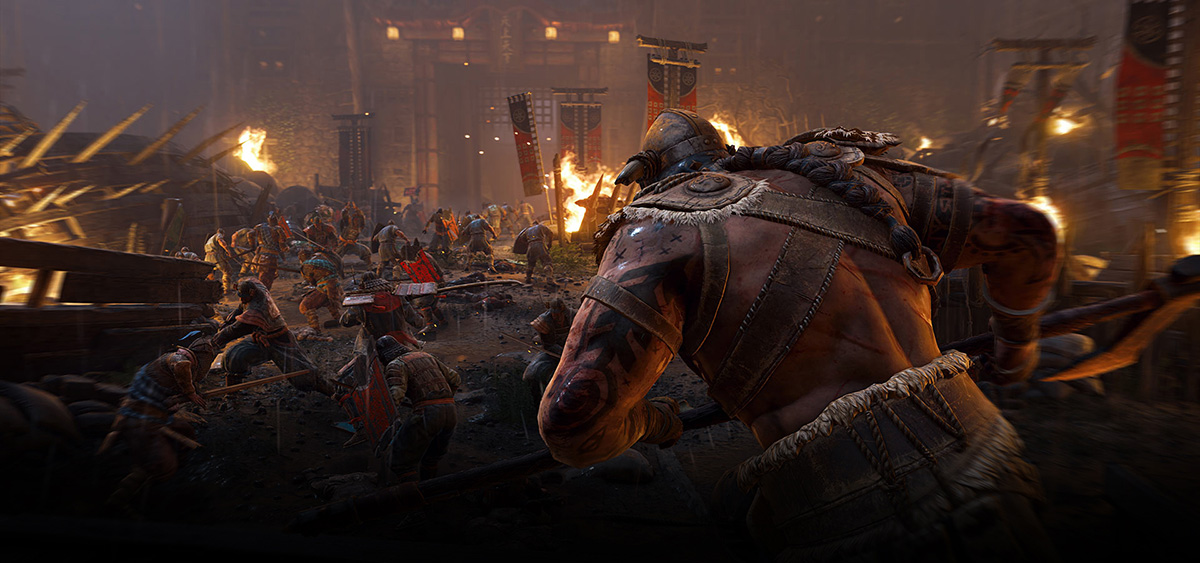 GET INTO THE GAME
MSI Immerse series Gaming headsets are designed to deliver the most immersive experience for gamers. Hear your opponents before you see them thanks to crystal clear positional audio or simply close your eyes and let your favorite music give you chills as you hear it in more detail than ever before.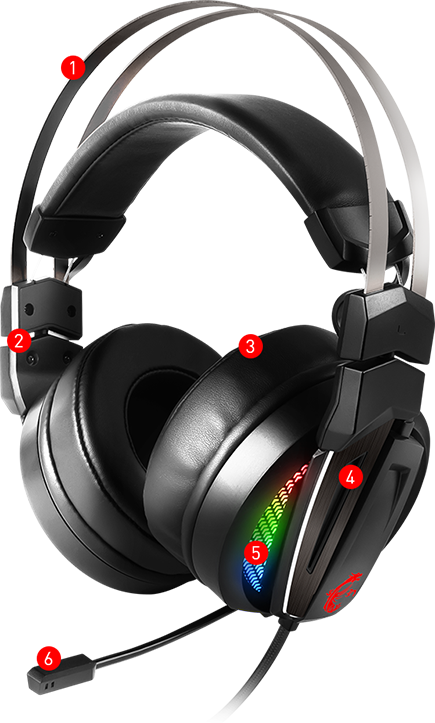 GH70 GAMING HEADSET FEATURES OVERVIEW
Solid Stainless Steel Headband
Swivel Ear Cups for Easy Carry
Replaceable Ear Pads
RGB LED with Mystic Light RGB
Certified Hi-Res 50mm Driver Units with Virtual 7.1 Surround Sound
Retractable Microphone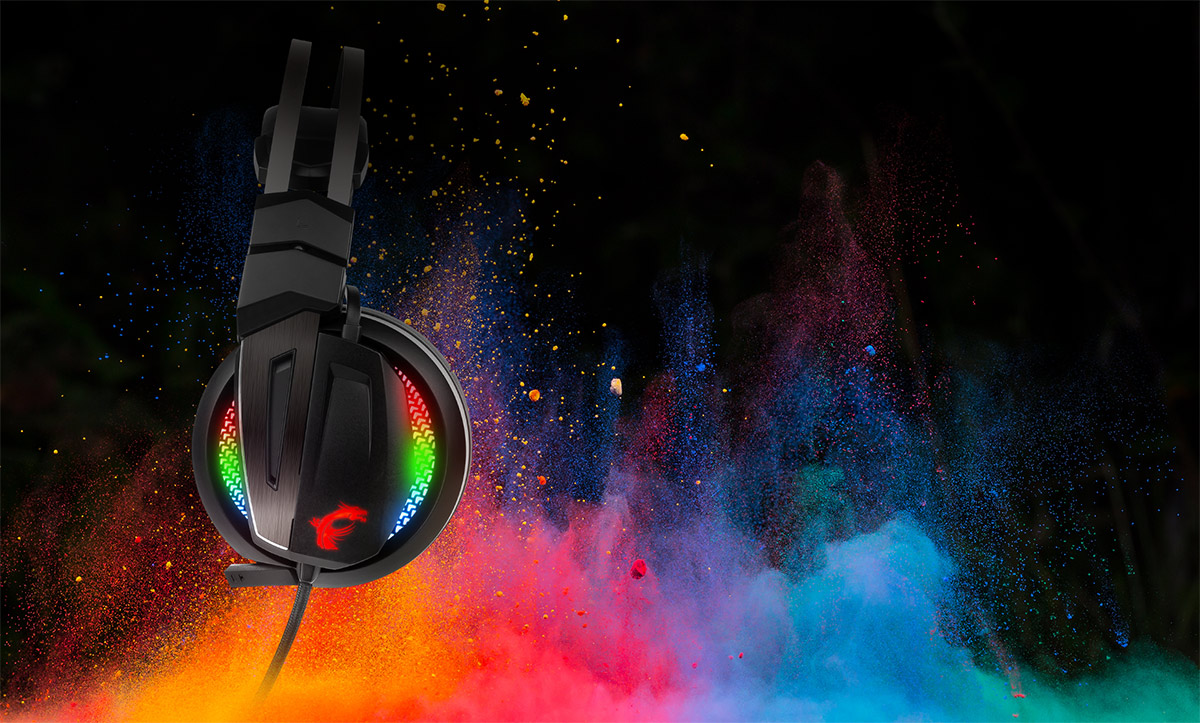 GH70 GAMING HEADSET FEATURES OVERVIEW
MSI Mystic Light RGB allows you to choose from millions of colors and multiple effects to proudly show off your style. Mystic Light Sync enables gamers to synchronize and coordinate colors and effects with their gaming rig and other peripherals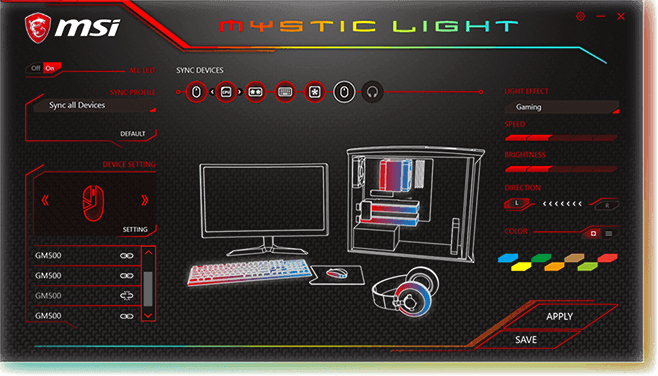 DISCOVER THE ESSENCE OF SOUND
The Hi-Res certification guarantees the highest possible sound quality when playing games, movies or music. Incredibly accurate and detailed sound reproduction ensures the best immersive experience and lets you enjoy audio like never before.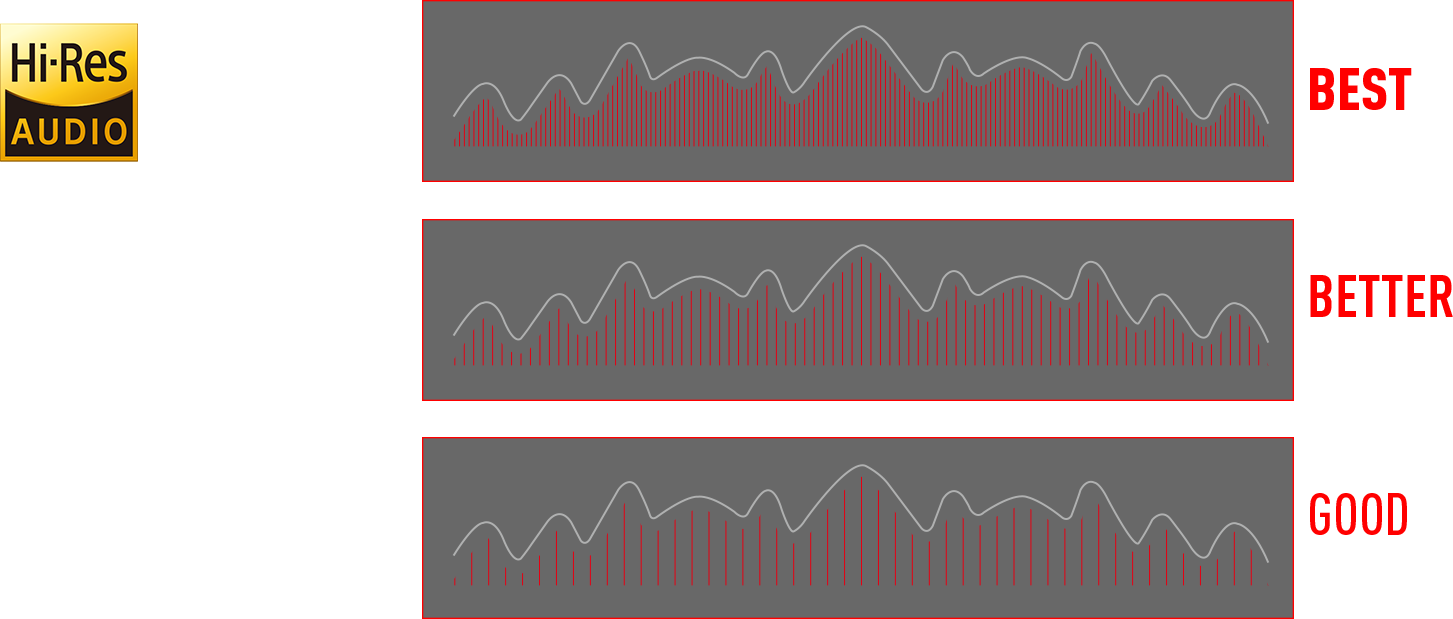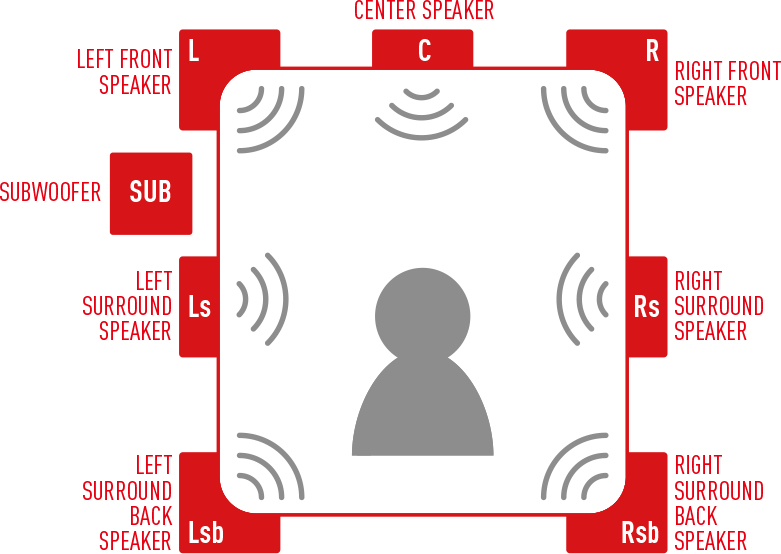 VIRTUAL 7.1 SURROUND SOUND
Imagine being able to hear the enemy's slightest movements before you can see them. Many of today's competitive games use audio positioning as an effective way of gaining information on what's going on around you.
Using the Immerse GH70's virtual 7.1 surround sound enables you to take full advantage of this. Get completely immersed with a crystal clear 360 degrees soundscape.
*Virtual 7.1 Surround function requires the MSI Gaming Center software to be installed.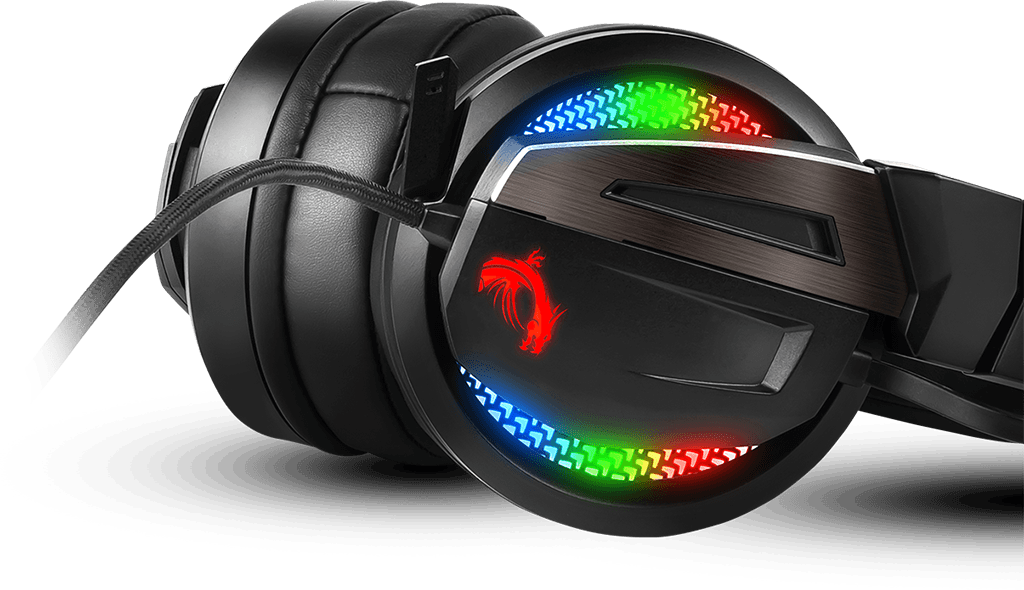 COMFORT IS KEY
A comfortable fit is essential when gaming for several hours on end.
The Immerse GH70 comes with the tried and trusted ergonomic suspension design which gently distributes the weight of the headset across your head while maintaining a secure fit to prevent unwanted movements.
Includes replaceable ear cups to ensure a fresh fit whenever you feel like it.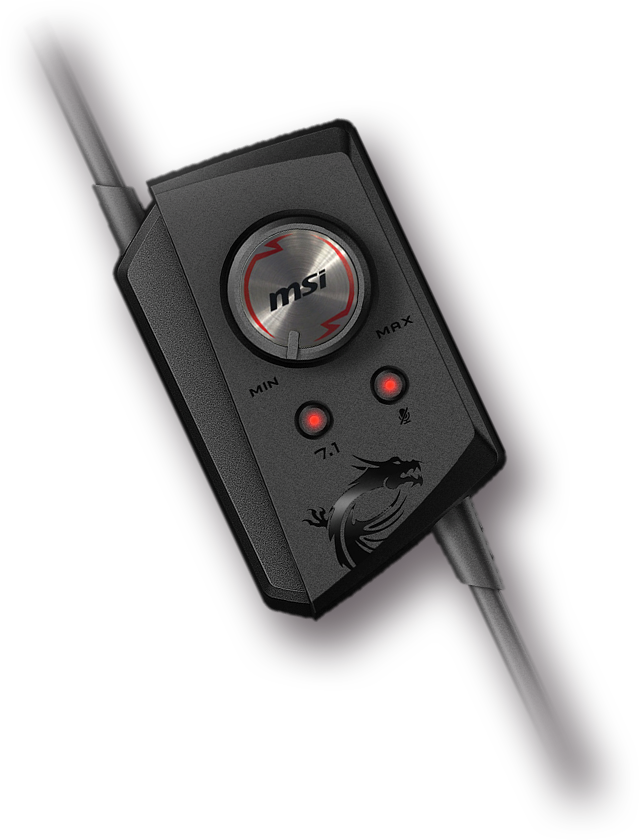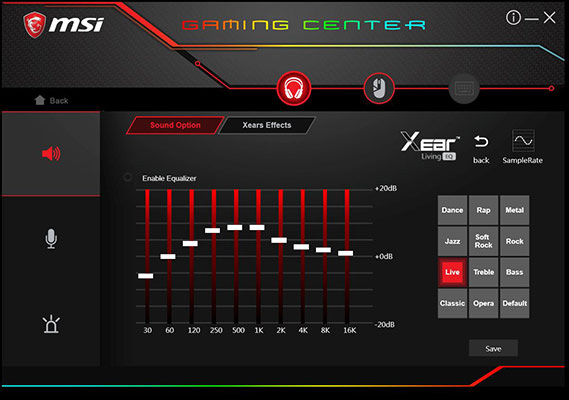 CONVENIENT CONTROL
The in-line volume control includes switches to toggle 7.1 surround sound and mute the microphone when things get loud. More detailed settings and effects are available using the MSI Gaming Center for further fine-tuning.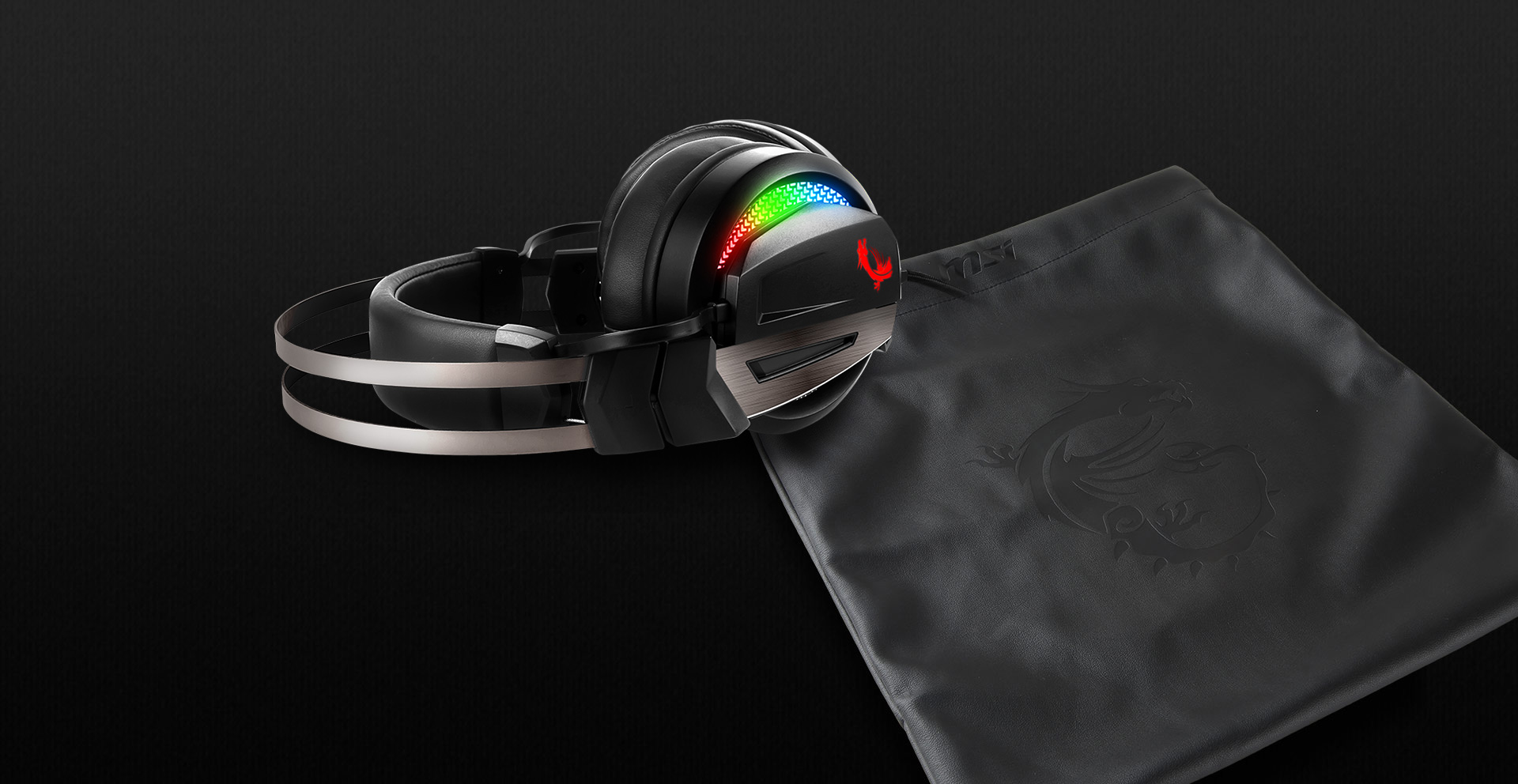 EASY CARRYING AND STORAGE
The Immerse GH70's swivel ear cups design makes it easy to store or carry around as it takes less space. A premium carrying pouch is included for additional comfort when taking the headset with you.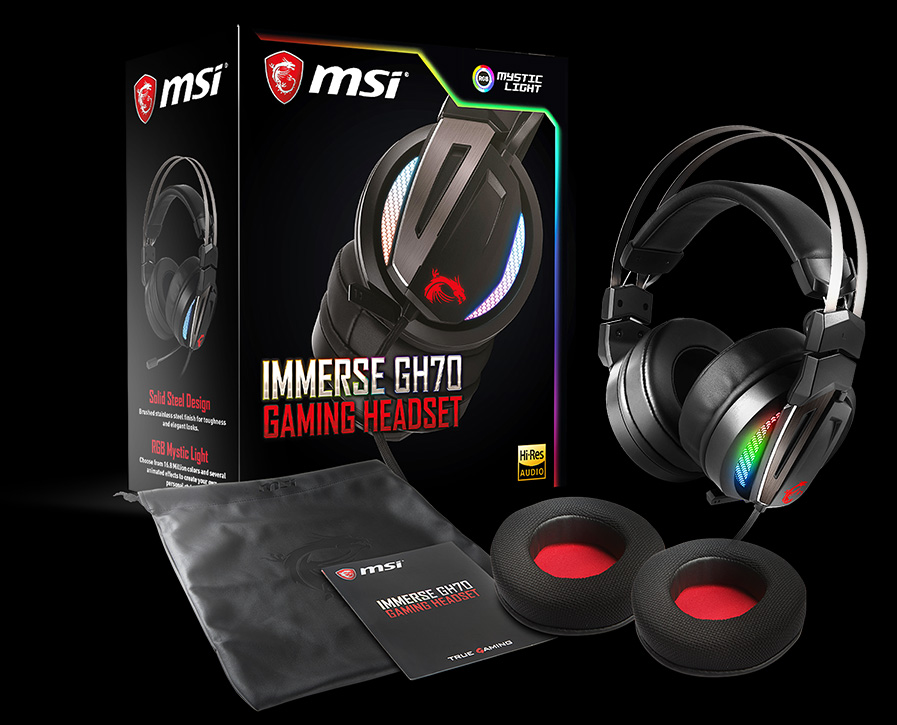 FULLY GEARED UP
Included in the retail box is everything gamers need to fully enjoy their Immerse GH70 Gaming Headset: Leather and cloth versions of ear pads and a convenient premium carry pouch.

1. Specifications may differ depending on your location, and we reserve the right to change without notice. Please check with your local dealers for detailed specifications.
2. Due to photography and/or monitor settings, coloration of product images may vary from actual product.